When we last left off, I insinuated that our Dong Bang Boys MAY HAVE BEEN A LITTLE OVERWORKED STARTING ABOUT 2005-6 JFC.
AHEM.
There were of course, promotions for Rising Sun, which turned out to be a
JUGGERNAUT, BITCH!
Naturally, SME said to themselves, "How can we
squeeze more money out of these guys
get more exposure for TVXQ?"
This collection of totally unrelated episodes may not have garnered any acting awards for the boys like they had for their hyung, Rain (HALLOWED BE HIS NAME) they are HEARTBREAKING WORKS OF STAGGERING GENIUS OKAY.
*cracks knuckles*

THIS IS GONNA GET EPIC.
I had previously attempted a running commentary of First Love, but gave up after 3 segments BECAUSE ITS HARD WORK Y'ALL, plus I'M A LITTLE TWITCHY, also
I'M A LEO
AND I DEMAND CONSTANT ADULATION FOR MY WORK. BUT IMMA DO MY BEST TO RECAPTURE
THE GOLD AND CRACK
and stay on course.
If you want to see what I did already, click here:
http://dandycat.livejournal.com/tag/first%20love
In
First Love
, we have
an epic battle for the love of one mousy girl
. AN EPIC BATTLE BETWEEN
It was a story fraught with
MEANINGFUL GLANCES OMG
, basketball juking,
TAE KWON DO MOTHERFUCKERS
,
inappropriate teachers
,
ORAL FIXATIONS
,
crazy violent fangirls"
,
PAINFULLY OBVIOUS REFERENCES TO WESTERN LITERATURE
, Kumdo,
HOMOEROTICISM LIKE WHOA
,
sixteen year olds who have regularly occurring strokes/fainting spells
, and
BDSM
NO I'M NOT KIDDING DO I LOOK LIKE I'M KIDDING WELL I'M NOT OKAY.
SEE FOR YOURSELF. I'LL WAIT.
Part One:
http://www.veoh.com/watch/v300924rBMSgTwh
Part Two:
http://www.veoh.com/watch/v300936bzD7zFYy
Part Three:
http://www.veoh.com/watch/v309658CtMWzEkT
Part Four:
http://www.veoh.com/watch/v3097102ktcP7BB
Part Five:
http://www.veoh.com/watch/v367656NZWzFJWY
DONE? Good. NOW GO TAKE A SHOWER BECAUSE I'M SURE YOU FEEL DIRTY.
Let me sum up:
Mousy Girl
somehow causes
Passive Boy
and
Aggressive Boy
to fall head over heels in love with her. Passive Boy plays the piano while Aggressive boy makes Mousy Girl the SLAVE TO HIS MASTER OMG THIS IS HIGH SCHOOL WHAT IS THIS I DON'T EVEN. The ending, played for comedy, is actually reflective of the choice most girls would take if asked:
A.Yunho or B.Yoochun
.
ANSWER: C.
BOTH, DAMMIT.
~
In
The Masked Fencer
, otherwise known as
Pimp vs. Ho Part Two: Electric Boogaloo
, Yunho and Yoochun fight over a girl YES AGAIN BUT
IT'S A PERIOD DRAMA
SO SHUT THE FUCK UP OKAY. This time they
battle with swords
,
lensflare
,
wuxia-style wirework
, and class warfare instead of pianos, basketball, Tae Kwon Do, and BDSM.
Watch
DBSK - The Masked Fencer [Eng Sub]
in
Entertainment
| View More
Free Videos Online at Veoh.com
CAN I JUST SAY THAT
YUNHO
LOOKS FUCKING HOT WITH
LONG HAIR
? JFC.
UNF.
I just wanna grab him by the hair with one hand and rip his fucking clothes off with the other hand. I'M COORDINATED OKAY.
AHEM.
Watching these two spar
is one of the sexiest things I have ever seen and can only be improved by
REMOVING SOME CLOTHES PLZ
. They both know how to move, Yoochun's lips flush this deep wine color when he EXERTS HIMSELF and Yunho pulls out his
MAGNUM FACE
.
OH. OHHHHH.
YOU WERE LOOKING FOR THE PLOT
.
I'M SORRY, MY BAD
.
So anyway, it's
ancient Korea
, which means it could be set OVER 900 years ago. Yoochun is
The Masked Fencer
, a
slave by day
and a
chivalrous
swashbuckler
by night
. He belongs to
Yunho
, BUT UNFORTUNATELY NOT IN THAT WAY and things get complicated when
Yunho is arranged to be married
to
woman who becomes smitten with Yoochun after he saves her
from
rapists
bandits
whatever.
Despite the fact that it is an arranged marriage, it's obvious that Yunho is smitten with the woman who is to be his bride
BUT THE WHORE KEEPS THROWING HERSELF AT YOOCHUN
.
Yoochun is torn because he's been
fucking friends with Yunho fo-e-bah
but he also finds himself reluctantly falling in love with the girl
WHO USES HER HIGHER CLASS POSITION TO RAEP PUSH AND MANIPULATE HIM
.
Yoochun and the girl speak in metaphors about SHEATHING AND UNSHEATHING BLADES AND THEN YOOCHUN TALKS ABOUT CUTTING TOFU WHAT THE HELL ARE YOU TALKING ABOUT CHUN YOU CAN'T EVEN MAKE SENSE IN KOREAN OMG
.
Montage.
YOOCHUN UNSHEATHES AND SHEATHES HIS BLADE AT THE GIRL WHILE YUNHO'S BACK IS TURNED I AM TOTALLY SERIOUS
.
Yoochun really shows himself to be the strongest actor of TVXQ
with his nuanced portrayal in this drama. Yunho does pretty well too SHUT UP BETTY (j/k) but I think
he needed a few more takes
to get the classic "
KOREAN MAN DEMOLISHES HIS ROOM
IN A HEARTBROKEN RAGE
" scene right. Rain does a pretty good job here:
As does
G-D, G-D BABY BABY
:
BUT OMG WHEN
YUNHO TAKES OFF THAT MASK WITH HIS LONG HAIR ALL LOOSE
I FUCKING
JIZZ IN MY PANTS
OKAY. DO ME, YUNHO. DO ME HARD.
BRB. JIZZING.
*cue elevator music*
I can do this. Power through it. Rise above it.
Okay. Yunho acts like a dick after he finds out his fiancee is
cheating on him with his best friend
.
Yoochun acts like a kicked puppy.
SEE WHAT YOU STARTED, BITCH?
Yunho can be pretty fucking scary when he's angry. I'm not just talking about his acting.
He's actually kind of known for it.
Anyway, Yoochun shows off his Adam's apple. Fiancee is inappropriate.
Yunho flies into the aforementioned jealous heartbroken
Don't worry.
There's a happy ending.
For everyone but Yunho, that is.
I'm pretty sure his character kills himself afterward.
:(
Also, a tip to the director:
PLAYING POP MUSIC DURING A HISTORICAL DRAMA KINDA TAKES YOU OUT OF THE SETTING OKAY.
For those keeping score, that's Yoochun 1 1/2, Yunho 1/2. BELIEVE ME IT MAKES PERFECT SENSE IN CONTEXT.
~
In
The King's Man
(WHICH IS NOT REALLY A DRAMA BUT MORE OF A WARM-UP FOR DRAMAS BUT IT STILL COUNTS OKAY), the boys first have to go through a series of tests, whereupon we learn that
JUNSU IS A DOLPHIN
and everyone but Yoochun could probably
GIVE REALLY GOOD HEAD
(without warming up first, that is) OMG. But you see,
THE PIMP DOES NOT GIVE HEAD, HE GETS HEAD OKAY
. We also learn that
YUNHO IS A COUNTRY BUMPKIN
WHO CAN'T PRONOUNCE Rs BUT IT'S OKAY BECAUSE HIS ACCENT IS FUCKING ADORABLE
SHUT UP.
After the tongue-twisters, the boys are given a crash course in improv. The boys are given the task of sweeping
SOME WHORE
actress Goh Eun Ah off her feet.
Yunho
busts out this SEXY
FORCEFUL
ARM-GRAB
UNF
.
Changmin
shows himself to be
so good at improv
that
he nearly stumped
the professional actress.
Yoochun is tender and emotional
.
Junsu starts out surprisingly smooth
but then
DISSOLVES INTO
SCHOOLGIRL-LIKE GIGGLES
before busting out My Little Princess a capella
BECAUSE HE'S JUNSU
AND THAT'S HOW HE ROLLS
.
Jaejoong
does things...with props
.
Yawn
.
Finally we get what we'd all been waiting for and that's JAEJOONG IN DRAG. He is surprisingly ungraceful BUT THEN AGAIN WTF AM I TALKING ABOUT THIS IS JAEJOONG HE CAN'T EVEN WALK AND CHEW GUM AT THE SAME TIME OMG.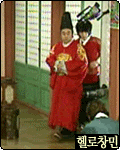 Changmin nearly gives himself brain damage from hitting a gong repeatedly with his head. IT'S A WONDER THEY DIDN'T ALL KILL EACH OTHER BECAUSE OF THE NGs OMG. At one point Changmin looks like he's going to KILL YUNHO WITH HIS BRAIN. Finally, it all comes down to Yunho and his feet on the last try and of course, Yunho delivers. The end.
The King's Man:
http://www.veoh.com/watch/v406947qwCSw56N
~
Up next is
Tokyo Holiday
. It opens with the members of Dong Bang Shin Ki performing a
Power Walk
through Tokyo Narita Airport to the tune of
Bulls on Parade
by Rage Against the Machine I AM NOT KIDDING. Jaejoong takes the forefront in the big pose-picture even though this episode is not about him at all.
But Japan has a well-known Jae bias
, so I GUESS IT'S OKAY. This episode is actually about Yunho's adventures in Tokyo after he escapes from his
captors
manager. Like Ringo in
A HARD DAYS NIGHT
. Were you looking for original ideas?
THIS. IS. KOREA!!!
Anyway, the way Yunho acts like a complete tourist, you'd think they'd never been there before. Except they have. YES I KNOW THAT MEANS I FORGOT TO COVER THEIR DEBUT IN JAPAN DURING MY LAST ENTRY. SHUT UP, I'LL GET TO IT OKAY GODDAMN.
Because of this episode, I want to ride through the streets of Tokyo on a bicycle screaming "KIMCHI!!!" at the top of my lungs.
Yes. Like that.
The boys are each introduced as having certain qualities. Three guesses as to the one whose schtick stuck and the first two don't count:
Yunho: Risk-taker (The Daredevil)
Jaejoong: Studious (
The Smart One
OMG ARE YOU FUCKING KIDDING ME)
Junsu: Cheerful and open soccer player (The Sweet but
Dim-witted
Jock)
Changmin:
4D
Boy (The Freak AND NO I DON'T MEAN IN THE SHEETS YOU PERVERTS)
Yoochun:
The Pretty Boy
(The Pretty Boy. Duh.)
If you guessed Junsu, then
LINGDINGDONG
YOU ARE CORRECT. He's still known for his love of soccer, but now he's mostly known for DAT ASS.
Yunho, being the responsible leader that he is, runs away and
makes a gay sex tape
gets some bitch knocked up
gets a cute but whiny and totally incompetent Korean expat tour guide to personally show him around Tokyo for three days, leaving the rest of the members holding the bag. Kinda reminds me of someone...
NO, IT'S NOT
TOO SOON
. SHUT UP.
Hilarity ensues. Yunho calls the tour girl a pervert in the sexiest voice possible as after he thinks he's caught her trying to kiss him while he was sleeping. But Yoochun is her bias
AND WE ALL KNOW HOW IMPOSSIBLE IT IS TO FIND MORE THAN ONE MEMBER OF TVXQ INSANELY ATTRACTIVE
. Junsu claims that Yunho has turned into pillows. Tour Girl's dad is a greedy, incorrigible, cowardly TVXQ fanboy who owes money to the local
yakuza
. The boys speculate on what could have happened to Yunho:
Jaejoong believes that Yunho is living in a cardboard box eating scraps. Because he's spiteful.
You will note that Jae is the only one who pictures Yunho suffering. Just the sort of thing a jilted lover might do. Hmmm...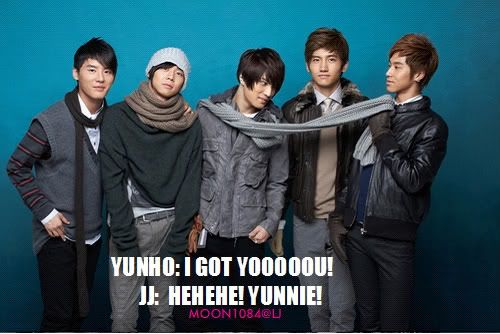 Junsu believes that Yunho has become a yakuza. Because that would be more bad ass than being a pillow.
Yoochun thinks that Yunho is kickin' it with some hos and getting drunk off his ass.
Because that's what he'd do.
Changmin, well, he's got nothing.
Meanwhile, Yunho is spending a chaste night in a swanky tourist trap hotel with the tour guide. She asks him about Yoochun INSTEAD OF RIPPING HIS CLOTHES OFF AND FUCKING HIS BRAINS OUT. Yunho, rather frustrated at this point, tells her a few things about his bandmates:
Yoochun is a manwhore.
Yes, that is Yoochun. On a completely unrelated note, FUCK YOU SBS FOR SHUTTING DOWN ALL THE HQ VIDS OF THIS. TRYING TO GET SCREENCAPS FROM 280P SUCKS ASS.
Jaejoong is a girly girl.
Junsu and Changmin in luv (MinSu 4 Life).
FYI, my favorite MinSu fic can be found here.
Of course, he's the most "well-adjusted" one.
He follows this reveal up with a look that says, "So, are we going to do it or what?"
They don't. :(
Just like in A Hard Day's Night, Yunho gets back just in time for the big performance, probably smelling pretty bad because HE'S WEARING THE SAME DAMN CLOTHES HE HAD ON TWO DAYS AGO OMG. The boys are happy to see him. Only Changmin is completely unsurprised. He probably also knows that the story isn't over yet.
Tour guide girl gets home to find that HER DUMB AS A BOX OF ROCKS DAD has spilled the beans about Dong Bang Shin Ki to the yakuza and they want either them or her. OF COURSE STUPID RUNS IN THE FAMILY BECAUSE SHE SAYS SHE'D DO ANYTHING TO GET HER DAD BACK, AND YOU KNOW WHAT THAT MEANS.
MORE FOR CHANGMIN'S PORN COLLECTION.
Context is your friend.
But Yunho comes in and OMG OFFERS TO STRIP IN HER PLACE HAVE I DIED AND GONE TO HEAVEN WHAT IS THIS I DON'T EVEN. No. This is Korea, are you mad? He takes off his jacket and kicks all their asses instead. Which is still sexy, but OH WHAT COULD HAVE BEEN IF THIS WERE HBO. But POP QUIZ, HOTSHOT: Yunho was caught on film and the yakuza try to blackmail TVXQ! What do you do?
YOU SEND IN THE PIMPS.
Though Junsu and Jaejoong were also there, it is Yoochun and Changmin who slickly talked their way out of the situation and tricked the yakuza out of the blackmail they had on Yunho. A happy ending was had for all, except for the douchebag loan sharks. :)
Tokyo Holiday:
http://www.veoh.com/watch/v439605FhfWP2hH
LONG POST IS LONG. Stay tuned for next time, when I finish telling you about TVXQ's Banjun Dramas!
Current Mood:

accomplished

Current Music:

Dong Bang Shin Ki - Tonight