THEY DO IT BY SCRUBBING OFF THE GUNK, BRINGING BACK THE ADORABLENESS AND WRAPPING IT UP IN A BIG CHRISTMAS BOW.
The Pimp continues in his pimp ways, donning a feather boa that
SOMEHOW WORKS FOR HIM
AS DOES THE SILLY CHRISTMAS ORNAMENT STUCK TO CHANGMIN'S SHOULDER JFC.
All is well in Dong Bang Land: Yoochun is radiant, Jaejoong has got his BISHIE SPARKLE back...
Pictured above: Bishie Sparkle(TM), not dandruff.
Yunho is hiding his teeth...
Changmin is back to looking like he wants to snuggle kittens INSTEAD OF EATING THEM WHOLE DEAR GOD THE HUMANITY and...
JUNSU NO LONGER LOOKS LIKE A GODDAMN SHIH-TZU YAY.
Seven months later, we got another present from DBSK:
The plot (PLOT WHAT PLOT WHO NEEDS PLOT WHEN
CHANGMIN HAS HIS SHIRT OPEN
FROM 2:36-40 NOT THAT I WAS PAYING ATTENTION) for the
Hi Ya Ya video
is this: Dong Bang Shin Ki suffer from heatstroke so intense that they start to hallucinate.
YES, THAT IS THE PLOT DON'T ARGUE WITH ME DAMMIT. They sweat. Wet.
GOT IT GOIN' LIKE A TURBO VETTE.
BABY.
GOT.
BACK.
Ahem. Where was I? Oh yes. The video:
A few things have changed since we last saw them. Everybody but Changmin is now legal (but that doesn't stop him from being all hot and dunking himself in a cold bath or from taking a
post-swim shower
and having an
HERBAL ESSENCES TOTALLY ORGANIC ORGASMIC EXPERIENCE, THAT SAUCY BASTARD).
NOTE TO CHANGMIN: YOU ARE NOT A GIRL, NOR ARE YOU
YUNHO
SO
TAKE YOUR DAMN TOP OFF WHEN YOU SWIM JFC
.
And then someone
EJACULATES
opens up a bottle of champagne
.
They drink. They drink some more.
They start feeding each other
.
Oh, the fics that were born from this must have been SPECTACULAR.
ALSO,
YUNHO REALLY LIKES HIS NEW TEETH
Y'ALL.
ON A TOTALLY UNRELATED NOTE, SOMEONE SHOULD MAKE A TRIBUTE VIDEO FOR JUNSU SET TO BABY GOT BACK.
...
JFC, I COULD WATCH THAT ASS ALL DAY.
...
AND NOW SO CAN YOU. YOU'RE WELCOME.
And now what follows is an epic of epic epicness. It's a little album called Rising Sun. This is the first time the Gods were really able to spread their wings and start showing the world what they were capable of. When they did, they shone like the RISING FUCKING SUN OKAY.
This song...will make you want to strap every member of DBSK to a bed and have your way with them.
Tonight is DBSK's first stab at the "
I WANNA TAKE YOUR CLOTHES OFF, LAY YOU DOWN IN FRONT OF THE FIREPLACE BAYBEEEEEEEEH AND MAKE LOOOOOOOOOOOOOOVE TO YOU AAAAAAAAALLLLLLLLLLL NIIIIIIIIIIIIIIGHT
" song (AND NOW I'VE JUST DATED MYSELF, DAMMIT).
I think it works pretty well for them.
Jaejoong had never sounded so good up to that point. Even with some of the phenomenal acapella singing the group did as a whole during the Hug-Triangle period, it was easy to dismiss Jae as just a pretty boy. Or girl. But the man has chops, and he shows them off in Tonight. Yoochun does his best Barry White impression and I'm just thanking the Goddess that he's legal at that point because
BEWARE OF THE BARITONE
OKAY. Yunho croons low. Junsu scrapes the bottom of his lower register LIKE HE'S SCRAPING YOUR FUCKING G-SPOT, then Jaejoong growls all sexy-like and then he has a FUCKING WAIL-OFF WITH CHANGMIN THAT BLEW MY GODDAMN MIND OMG.
SERIOUSLY. THAT SOULFUL WAIL OF JAE'S @ 3:45? JIZZ. IN. MY. PANTS.
When it comes to vocal pyrotechnics, when it comes to a song that lets every member SHINE LIKE GODS, it's hard to argue against Tonight being one of their Greatest of All Time.
BUT CAN I JUST SAY THAT WHOEVER HAD THE BRIGHT IDEA TO PUT GODDAMN SCRUNCHIES ON THE MICS HAS TO FUCKING DIE? JFC. It's distracting from the awesome, but on the whole, it makes me wanna shoop.
Exactly.
So yeah. The actual song for this video doesn't start until about 1:32 in. WHO WANTS TO WATCH JAEJOONG SCROLLING THROUGH HIS IPOD, YUNHO TAKING PICTURES NOT OF NAKED JAEJOONG, CHANGMIN NOT ENJOYING THE MOST OBVIOUSLY FAKE CUP OF COFFEE EVER AND SO ON? NOT ME.
An important note: this is the last time for quite a while that you will see Yoochun's hair look in any way attractive. I have a theory. One in which he hit it and quit it with a stylist noona's daughter and the whole team of stylist noonas took their revenge out on him and his hair FOR YEARS. So, let's have a MOMENT OF SILENCE FOR CHUN'S BEAUTIFUL HAIR.
SIGH.
...They are so very pretty in this video, EXCEPT FOR THE FACT THAT YUNHO'S HAIR IS TOO DAMN SHORT STYLIST NOONAS I'M LOOKING AT YOU. Otherwise? Breathtaking, flawless, gorgeous, etc. Either they are the greatest actors in the world or they were really happy at this time and had really bonded with each other because they all possess this otherworldly glow that can't be faked with make-up or special effects. AND CHUN I BET YOU PRACTICED THAT LITTLE PEN TWIRL FOR WEEKS.
RIIIIIIIIIIIIIIIIIIIISE UUUUUUUUUUUUUUUUUUUUUUUUP!!!!!
THERE IS SOME SERIOUS SHIT GOING ON IN THIS VID OKAY.
Clicky da linky:
http://community.livejournal.com/dbsg/1162627.html
It will make your life better, I promise.
Barring the fact that THIS IS AN UNDISPUTED CLASSIC IN THEIR CATALOG, I still feel the need to pontificate for those in the class who are not in the know.
Where. Do. I. Start?
Intros of awesome. One could conceivably start here for their introduction to Dong Bang Shin Ki and get a good picture of who the members are at their purest essence, but THAT WOULD BE BAD AND YOU SHOULD FEEL BAD. Collective Jump of Awesome. Bad Chun hair is bad. Epic Min screams are epic. Yunho's raps have rarely been so intense and badass before or since. The choreography is dynamic, classic. THEY SHOULD TEACH THIS FUCKING VIDEO IN BOY BAND SCHOOL BECAUSE IT DOES EVERYTHING BUT CHUN'S HAIR RIGHT OKAY.
Because of the song's and the video's deeply personal bent, this may just be the truest introduction to emo!Chun, confusing us all and making us wonder who was the true Chun, the Pimp or the Crybaby? Although he had shown his sensitive side as early as the 04.11.21 SBS Inkigayo performance of Miduhyo. WHICH I HAVE JUST FOUND AND AM INCLUDING BECAUSE I AM THAT DAMN AWESOME:
Poor Chunnie.
You know what? WATCH THE FUCKING VIDEO. It's right up there with Mirotic in terms of sheer awesome and might actually be superior to it all things considered CAN I HAVE THIS AS MY PERSONAL THEME SONG THANK YOU.
Last from Rising Sun, but not least, we have Always There.
This song is so well crafted, you have to remind yourself a few times that the Gods are indeed singing A CAPELLA here. They walk the fine line between perfect control and moving passion in their performance better than any pop group I've ever heard AND YES THAT INCLUDES SRS BZNS PEEPS LIKE THE BEACH BOYS BECAUSE THEY CAN DO IT WITH VIBRATO OKAY. Chun's hair continues to be bad. Jae continues to look like he walked off of an anime. Yunho's singing is stronger and more confident. Junsu continues to be practically perfect in every way JUST LIKE MARY POPPINS ALRIGHT. Changmin is starting to blossom from cute into OMG WHO IS THAT SEXY MOTHERFUCKER I WANT MY BABY TO HAVE HIS CHEEKBONES JFC.
Before you know it, it's Christmas again. This time, Dong Bang Shin Ki collaborated with another group who had recently made their debut, a little group called Super Junior. YOU MAY HAVE HEARD OF THEM.
How they've both changed in the almost five years since! OMG SIWON HAD BABY FAT ONCE! NOT THAT I'M COMPLAINING ABOUT HOW HE LOOKS NOW: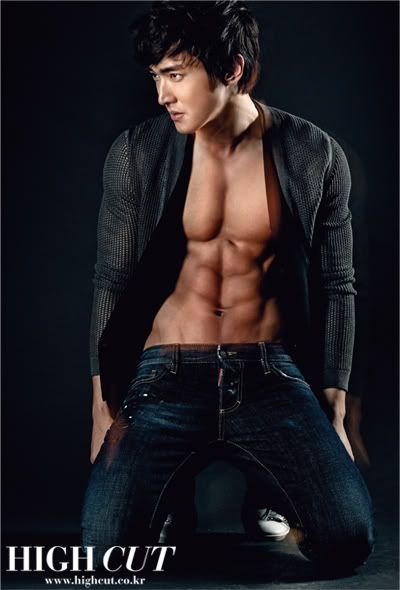 ...
AHEM.
THE LEGENDS ABOUT KIBUM ARE TRUE! HE DOES EXIST! It wasn't until now that I noticed the similarity in timbre between Kangin and Yunho's voices AND THATS A VERITABLE WALL OF SOUND DURING THOSE CHORUSES, AND THIS IS PRE-KYUHYUN JFC. AND I SEE YOU HANG GENG. AND HYUKSU TOO...
Of course, it takes more than amazing talent, dazzling looks, CHARISMAtic personalities, great compositions, and visually arresting music videos to COMPLETELY DOMINATE ASIA OMFG. Learn how Dong Bang Shin Ki burnt the candle at both ends in 2005-6 next time.
Editors note: Just as I started writing about the Rising Sun video, I managed to lose everything that I'd written about Magic Castle, Hi Ya Ya, and Tonight AND SO HAD TO REWRITE BECAUSE I LOVE YOU THAT MUCH OKAY. It was fucking hilarious, too. I hope that I was able to recapture enough of what I'd lost with my re-write and I apologize if it's not as funny as my last post.
So how does Dong Bang Shin Ki make up for the FAIL that was the Tri-Angle video?
Current Mood:

frustrated

Current Music:

Salt 'n' Pepa - Shoop