It's that time of year again, my semi-annual evangelical mission to convert y'all into raging fangirls.
So I will start from the beginning, because it's a very good place to start.
IT'S FUCKING HUG, Y'ALL. OLD SCHOOL.
Jaejoong brings the gender ambivalence. Yoochun has not yet discovered his inner pimp. Junsu
STROKES IT LIKE AN ARPEGGIO
.
Yunho still has his real teeth
.
Changmin SNUGGLES A KITTEN
JFC KILL ME NOW
.
Please note: this vid was shot in the dead of winter. The director tried to hide that by making them dress light and to keep FUCKING ICE CUBES IN THEIR MOUTHS so you wouldn't see their breath WELL THAT'S WHAT CHANGMIN SAID ARE YOU CALLING HIM A LIAR?
It didn't work.
Watching this video again, I feel incredibly dirty because they are all underage and beautiful and radiant and
YOU CAN'T STOP STARING AT YUNHO'S CROOKED TEETH
NOW THAT I'VE MENTIONED THEM, CAN YOU
and LOOK AT THEM BEING ALL CHEERFUL WHILE THEY FREEZE THEIR ASSES OFF and
YOOCHUN PUT THAT RAZOR DOWN
YOU HAVE NO GODDAMN FACIAL HAIR...
...and I HAVE NEVER WANTED MORE TO BE A KITTEN IN MY WHOLE LIFE OMG WHAT HELL IS THIS?
Also, what the hell is it with Korean music videos and milk?
WHY IS PRE-LEGAL YOOCHUN'S VOICE SO HUSKY AND SEXY
?
DID CHANGMIN JUST WINK AT ME
?
HELP, I CAN'T STOP STARING AT YUNHO'S MOUTH.
Ahem.
OH I SEE HOW IT IS.
YOU THINK THAT BECAUSE THEY ARE
A
MANUFACTURED BOY BAND
THAT THEY DON'T HAVE MAD SKILLZ, HUH?
LISTEN ALL YE UNBELIEVERS, AND WEEP
:
A CAPELLA, WHAT
.
THEY CAN MAKE GROWN MEN CRY
WITH THEIR ANGELIC VOICES
,
SO BETTA RECOGNIZE
.
Not much has changed from Hug to My Little Princess. They're on the same single, CHANGMIN STILL STARES AT THE CAMERA
IN INAPPROPRIATE WAYS, LARRY...
...JUNSU IS JUST AMAZING OMGSUN, YUNHO'S TEETH ARE STILL CROOKED,
JAEJOONG
STILL LOOKS LIKE
A
GIRL
, YOOCHUN STILL SPARKLES LIKE A DAMN TWILIGHT VAMPIRE.
Here they are (with
BoA
) ALL UP IN YOUR CHRISTMAS WISHING YOU A HAPPY NEW YEAR with my all time favorite Christmas carol. Yes, I know they were lip-syncing, it was from their debut performance (I think), so SHUT UP OKAY.
More adorableness in the form of Midhuyo:
Let's see: there's Yoochun's Chunglish, the bright idea to film on the edge of a tall building when one of the members is deathly afraid of heights, more of Junsu and his ridiculously perfect singing, more of Changmin making me want to break a whole mess of laws and LOL PRODUCT PLACEMENT. And OMG YOOCHUN'S LIPS. And OMG YOOCHUN AT THE PIANO. And OMG CHANGMIN IN THAT LOOOOOOOOOONG COAT. BOTH OF THEM. And the fact that their positions get mixed up is distracting for me. Here's how they ALWAYS ALWAYS STAND:
Junsu
(The Cute One) on the far left (stage right), followed by
Yoochun
(The Bad Boy/Rebel),
Jaejoong
(The Heartthrob/
Sweet One
) in the middle,
Changmin
(
The Shy One
)
in the cockblock
position
and
Yunho
(The Older Brother) on the far right (stage left).
If it's not that way, then it's wrong. WRONG, I TELL YOU. Por exemplo:
See that look on Yoochun's face? It's saying I C U CREEPIN', YUNHO.
Jae looks disheveled because the only thing standing between him and a quickie with Yunho IS THE BIGGEST YUNJAE SHIPPER IN EXISTENCE.
REAL
REAL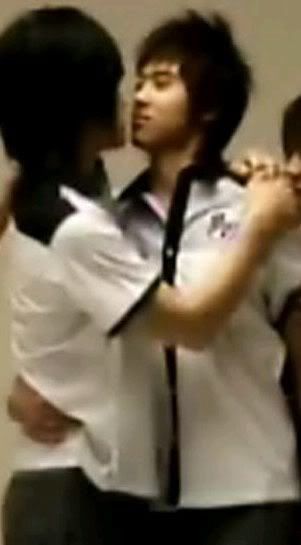 REAL!!!
Seriously. There is Yaoi fanservice, and then there is YunJae (as you will soon learn, young padawans).
ANYWAY.
Here's where things start to get interesting:
Jaejoong is still prettier than the featured "video girl" (that will never, ever change). Yunho is rocking the motorcycle badass (YES IN THAT MESH TOP SHUT UP OKAY)...
Deal with it.
...thing that he will rock harder in upcoming Banjun dramas and other videos in the future. Junsu has apparently done something to upset the stylist noonas...
CHANGMIN GETS WET
AND THEN TURNED ON BY SEEING VIDEO GIRL BEAT UP SOME OTHER GUY OMG INAPPROPRIATE
.
WAYLT MIN, WAE??!
But the true breakthrough of this video is the introduction of Yoochun as THE PIMP. You see...
STOP STARING ALL ANGRY-LIKE AT THE CAMERA CHANGMIN I'LL GET TO YOU LATER JFC...
DAMMIT.
...
...
FOR SOME REASON, I HAVE LOST MY TRAIN OF THOUGHT. Alright, mere words cannot do THE PIMP justice. You must see him for yourself:
The Pimp in White
The Pimp in Black
SURRENDER NOW, BITCHES.
This Pimp!Chun motif will be picked up later, to great effect, and contrasted with Crybaby!Chun, which I will cover in greater detail over the entries to follow.
And can I just say that I'm glad they waited eleven months after their first single to debut this look:
BECAUSE, AGAIN, DAMN. WHERE DO I EVEN START WITH THIS ONE?
Changmin looks like he stuck his finger into an electrical socket. Junsu looks like a shih-tzu.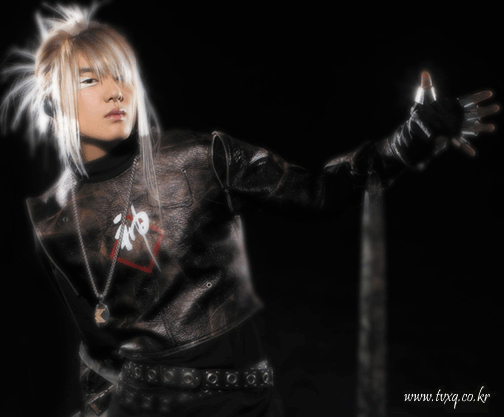 YES, HE FUCKING DOES.
Jaejoong looks like he could rip your arm out of it's socket and beat you to death with it before going back to the mirror to check his hair. Yoochun, oh dear gods, what didn't they do to you? The only normal looking one here (at least in the picture - NO ONE LOOKS NORMAL IN THE VIDEO JFC) is Yunho, but Yunho can carry almost anything off.
I said ALMOST EVERYTHING, JFC.
So it's kinda weird, THERE IS AN ORCHESTRA MADE UP OF SHINY KLANSMEN and it gets weirder when the director busts out BoA as THE VIRGIN MARY. AND THEN THE FUCKING TRAX BEING ALL METAL AND JUNSU STARTS SLAMDANCING AND THEN SUDDENLY WE'RE BACK TO DBSK, YOU KNOW THE PEOPLE WHOM THIS VIDEO IS SUPPOSED TO BE ABOUT.
So, I suppose you're wondering how Dong Bang Shin Ki could come back from such a failtastic video and go on to conquer all of Asia. You'll find out next time.
BY THE WAY, IF YOU ARE NOT IN LOVE WITH THESE GUYS YET, JUST WATCH THIS VIDEO OMG.
Current Mood:

crazy

Current Music:

Dong Bang Shin Ki - The Way U Are